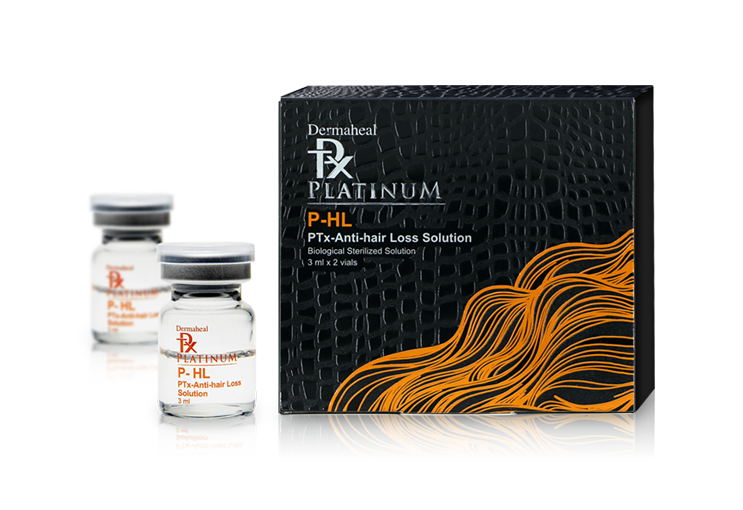 P-HL(Anti-hair Loss Solution) 3ml x 2vials / Set
This anti-hair loss solution enhanced by
high concentration of fast acting patented peptides provides ultimate solution
for hair revitalization by integrated action for healthier scalp.
PRESENTATION

3ml x 2Vials / Set
ACTIVE INGREDIENTS

Water(Aqua), sh-Pentapeptide-12 SP(CG-PTX), Decapeptide-10(CG-Keramin 2),
Oligopeptide-54(CG-Nokkin), Decapeptide-18(CG-Wint),
Oxo Azaandrostene Carboxyloyl Decapeptide-18(CG-Follinuvo), Oligopeptide-71(CG-Edrin),
sh-Oligopeptide-2(CG-IGF-1), sh-Polypeptide-1(CG-bFGF), sh-Polypeptide-9(CG-VEGF),
Sodium DNA, 1,2-Hexanediol, Caprylyl Glycol, Glycerin, Glycine, Arginine, Serine,
Glutamic Acid, Aspartic Acid, Leucine, Alanine, Lysine, Tyrosine, Phenylalanine,
Threonine, Proline, Valine, Isoleucine, Histidine, Methionine, Cysteine, Tocopheryl Acetate,
Niacinamide, Biotin, Tocopherol, Panthenol, Polysorbate 20, Retinol.
DIRECTION FOR USE

Cleanse before use and apply to scalp using appropriate technique.