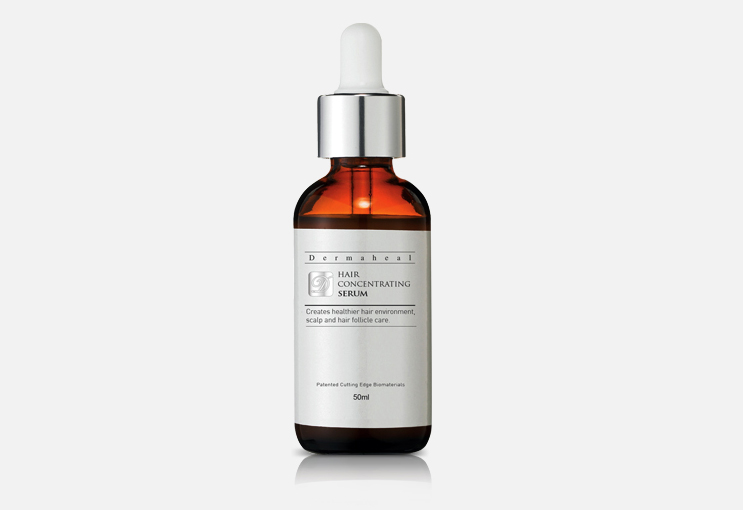 Hair Concentrating Serum 50ml PT
High concentration of biomimetic peptides and other active ingredients
for hair nutrition intensively care scalp and hair follicle to stop
hair loss and to regain hair.
DIRECTION FOR USE

Drop the Hair Serum directly onto target area of scalp and massage scalp with fingertips for 2-3 minutes before bedtime to provide sufficient time for scalp to absorb the product. Allow product to remain on scalp for at least four hours before washing hair. Hair Serum should be used on a daily basis.
ACTIVE INGREDIENTS

GF sh-Oligopeptide-2 (CG-IGF1), sh-Polypeptide-1 (CG-bFGF), sh-Polypeptide-9 (CG-VEGF), sh-Polypeptide-11 (CG-aFGF), Copper Tripeptide-1, Octapeptide-2 (Prohairin-ß4), Sodium Hyaluronate, Biotin, Arginine, 3-o-Ethyl Ascorbic Acid, Polygala Tenuifolia Root Extract, Portulaca Oleracea Extract, Polygonum Multiflorum Root Extract, Thuja Orientalis Extract, Ginkgo Biloba Leaf Extract, Multi-vitamins, Amino Acids
PT Octapeptide-2 (Prohairin-β4), Decapeptide-4 (CG-IDP2), Acetly Decapeptide-3 (Rejuline), Oligopeptide-41 (CG-Keramin1), Oligopeptide-20 (CG-IDP5), Copper Tripeptide-1, Tenuifolia Root Extract, Portulaca Oleracea Extract, Polygonum Multiflorum Root Extract, Thuja Orientalis Extract, Arginine, Triethanolamine, Hydroxyethylcellulose, Ginkgo Biloba Leaf Extract