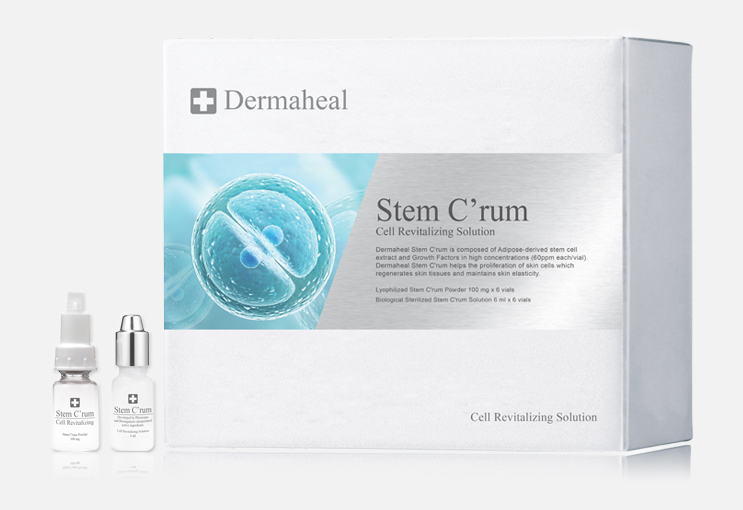 Stem C'rum (Anti-aging, Anti-pigmentation) 6mlx6pairs/set GF
INTENSIVE CARE AFTER PROFESSIONAL THERAPY
Dermaheal Stem C'rum is composed of Adipose-derived Stem Cell (ASCs) extract and
growth factors in high concentration (60ppm each/vial). Dermaheal Stem C'rum helps
the proliferation of skin cells which regenerates skin tissues and maintains skin
elasticity. Caregen's double-layered capsulation technology enables concentrated
6 growth factors and stem cell extract of Stem C'rum to infiltrate into skin.
PRESENTATION

Lyophilized Powder 100mg X 6 Vials
Stem C'rum Solution 6ml x 6 vials
ACTIVE INGREDIENTS

Human Adipocyte Conditioned Media Extract, Niacinamide, sh-Oligopeptide-1 (CG-EGF),
sh-Oligopeptide-2 (CG-IGF1), sh-Polypeptide-1 (CG-bFGF), sh-Polypeptide-2 (CG-TRX),
sh-Polypeptide-5 (CG-TGF-ß3), sh-Polypeptide-11 (CG-aFGF)
CONCENTRATION OF GROWTH FACTORS

60 ppm of each Growth Factor / vial
APPLICATION

Every morning and night 1 vial for 1 vial fot 1 week use
SHELF LIFE

2 years from production
PERIOD AFTER OPENING

Stable for 5 days in refrigerator
CAN BE COMBINED WITH

After Professional Therapies